Moksha Ayurveda Organic Teas
Moksha is the concept of Ultimate Freedom, Liberation & Self Acceptance.. Pure Organic Bliss 
Everyday Wellness Teas, with absolutely no additives. 
Superfoods:
Hibiscus
Chamomile
Ginger 
Turmeric
Moringa
Soursop
Green Tea
---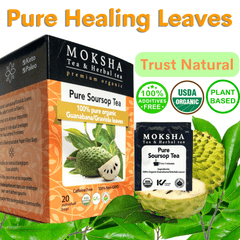 Pure Organic Soursop Tea 20 Enveloped Tea Bags Moksha Ayurveda made with Pure (Guanabana/Graviola) Leaf
Blended to give you maximum Benefits of the  Soursop Leaves straight from the fruit.  Pure (Guanabana/Graviola) Leaves,, refined to maintain it's purity and offer maximum  Nutirent Absorption.  Sugar-Free 0 Carbs...
On Sale
$14.99
Regular price
$19.99